Summer Essentials in your Makeup Bag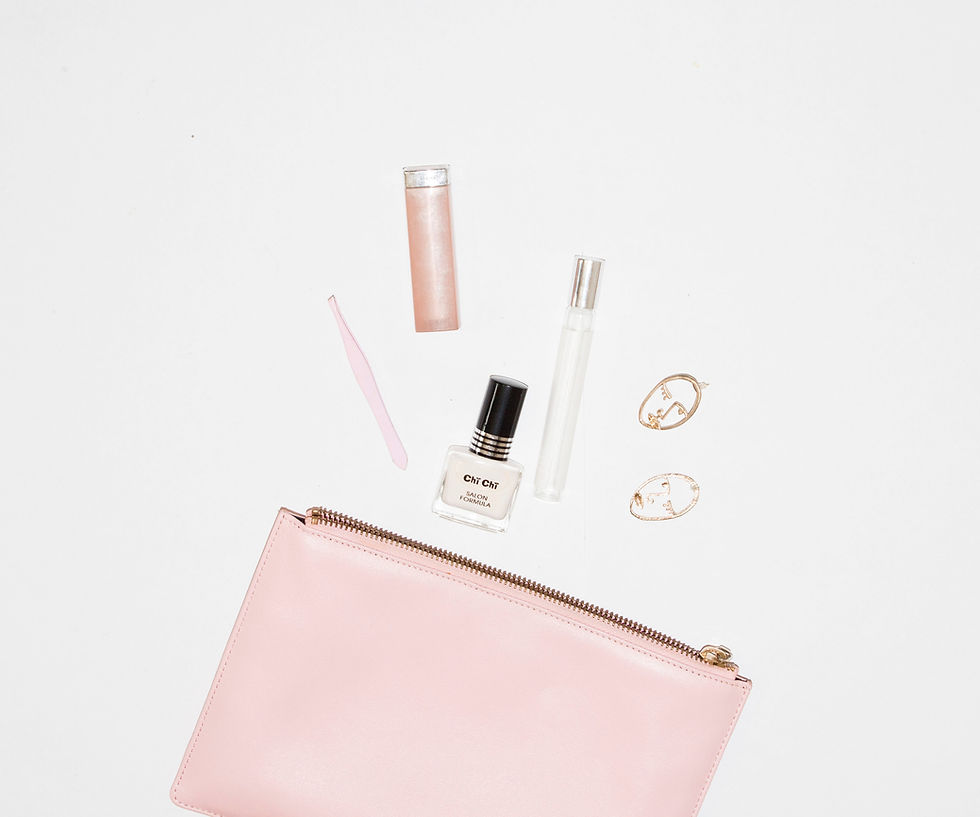 Summer is almost here, and if you're already busy planning vacations, whether for yourself or the kids, we know the last thing you want to do is worry about what's in your makeup bag.
While enjoying some well-deserved time in the sun, you should have confidence that what's in your bag is everything you need to look and feel your best. This is why we've piled together a list of this summer's top 10 essentials to lock away in your makeup bag!
Sunscreen
The most important thing you'll need before you set out into the summer sun is, of course, your sunscreen. Using sunscreen is one of the best ways to not only keep your skin protected from the sun but from the unwanted effects of aging. One of the best sunscreens on the market?
Metamorphosing Red Sunscreen Water Sun Protect SPF30+ from our client Garancia. Made for the whole family, this product "protects, sublimates, and makes your skin luminous and satiny."
Lip Balm
The next thing you need in your makeup bag is a lip balm! Something that can help protect your lips from the dry heat that may be an unwanted side effect as you enjoy those humid days. Our go-to is Sephora's Lip Butter Balm which is perfect for hydrating dry lips!
Waterproof Mascara
Planning on taking a dip in the pool? Waterproof mascara will be just the thing to keep your look flawless while taking that refreshing swim.
One of the most popular waterproof mascaras on the market right now is this Perfect Strokes Universal Volumizing Mascara created by our client's Rare Beauty.
Sun Kissed Bronzers
Self-tanner
Another easy way to get a tanned look without spending hours in the sun is by using a self-tanner! With just a few drops of this THE BODY Illuminating Self-Tan Drops, you could get the summer glow you're after!
Moisturizing Lotion
Spending all day in the hot sun could have disastrous effects on your skin! To keep it hydrated and looking its very best, you'll want to keep a hydrating or moisturizing lotion handy and available in your makeup bag. One of our favorites to do the job is this lightweight moisturizer, available on Amazon!
Anti-Frizz Conditioner
As much as we may love the summer sun, our hair may not always feel the same. To keep the frizz under control as you step out into the heat, try using this Perfecting Leave-In conditioner by Lolavie to hydrate your hair, fight the frizz, and extend your style.
Summer Lip Colors
The summer months are all about bright, fresh colors! So if you're looking to update what's in your makeup bag, nothing quite compares to sprucing up your lip color. Take a look at Aveda or places like Sephora to find some new picks.
Refreshing Sprays
Heading out for a night on the town? One of the best things you can keep in your makeup bag with the summer humidity is a spray or perfume that helps you keep a fresh, pleasant scent. If you don't already have a favorite, check out Ulta's SUN FRUIT Eau de Parfum!
Shower Sheets
Summer plans typically mean you're running on summertime! From activity to activity, you may find that there isn't always a moment to grab a quick shower. And instead of staying conscious about it all day, we've found that these Cucumber Mint Shower Sheets can ease the fears.
Are you ready for summer?
With everything on this list, we know you'll be ready for whatever comes your way this summer. Whether you're laying out on the beach and soaking up the sun with Metamorphosing Red Sunscreen Water Sun Protect SPF30+ or heading out for a night on the town after spritzing on a fun summer scent–you've got everything you need to make memories, you'll never forget!