How to get past the January blues with these self-care tips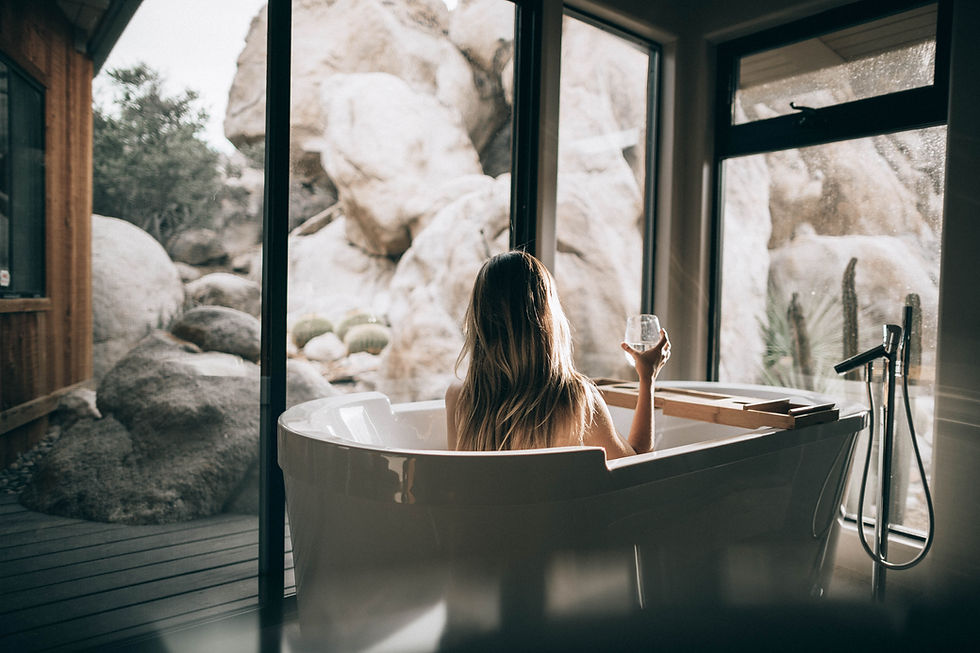 The holidays were so busy, weren't they?
The moment October hit, it felt as though the world and everyone around you hit the fast-forward button as you sped through the motions of Halloween, Thanksgiving, and Christmas. So you were overwhelmed by the cheery spirits and twinkling lights that you almost didn't realize that the days had gotten shorter, accompanied by darker mornings.
But once we cross over the threshold that is the New Year, for many, those changes become harder to ignore. With the celebrations dying down and everyone returning to their normal schedules, you could find yourself with the January Blues before you know it.
The January Blues usually happens within the winter months, and its important to know that it's different from that of Seasonal Affective Disorder. While SAD is a clinical diagnosis, the January Blues is more of a situational one. It comes when the big events in your life have died down and when you may feel as though you have nothing to look forward to. It's also exasperated by the lack of consistent sunlight.
You'll know you have the January Blue if you're experiencing things like low mood, sadness, lack of motivation, tiredness, and low energy.
The good news, however, is that January Blues does go away. While you can wait for the fun summer months to roll around, there are also some self-care things you can do now to pick up your spirits. Read on to find out what they are!
Address your Mental Health
When dealing with the January Blues, the most important thing you can do is to address your mental health. Don't shy away from what you're feeling. If you've been feeling sad or unmotivated, question yourself and see if you can get to the bottom of what's going on.
You can do this by journaling, going to therapy or even talking to a friend. Take time to go over your holiday season, what did you enjoy? What are you missing? After doing this, you can also look ahead and see how you can start fulfilling your needs in the New Year.
If you enjoyed spending time with friends and family during the holidays, what are some ways you can incorporate more together time throughout the year? Perhaps you can schedule more FaceTime calls or even book a trip to get together again soon!
If you were overwhelmed by the socializing of the season, then how can you recharge your batteries right now? Maybe you decide to spend the next few weekends hanging out at home or maybe even book a spa day for yourself!
By addressing your mental health and discovering the trigger to your January Blues, you can get back on track to finding your happiness and living within it.
Get Outside
While your mental health is of the utmost importance, science does show that the lack of sunshine can also be playing a major role in those blues. Which is why getting outside is a great way to boost your moods and give your body what it needs!
Since the days are shorter, you'll want to make the most of the times that the sun is out. You can do this by scheduling a daily walk when the sun is at its highest. Whether it's a walk in the park or a walk to your favorite coffee spot, getting time outside will do your mind, and body some good. If you're in cold areas, wear clothing that covers your skin from harsh winds and walk with any skincare products you think you need.
Nurture Your Physical Health
Although your ability to go outside may be reduced in the winter months, nurturing your physical health should still be a priority as it balances your mind's ability to think clearly.
To do this, you'll want to ensure that you're getting adequate exercise into your routine. This could be a daily Peloton run, a yoga session every morning, or even an afternoon swim in an indoor gym. Whatever option you choose, make sure it's something you enjoy and fits into your schedule so you can do it continually.
Along with exercising, you also want to make sure that you're eating well too! While the occasional junk food stop is everyone's guilty pleasure, giving your body the proteins it needs throughout these dark winter months is essential. It will not only keep it running its best so that you can do what you want and need, but it will also help support the deficiency it may be experiencing from the lack of sunshine vitamin!
Prioritize You!
During the holiday season, you more than likely prioritized those you love, but in these winter months, and as you deal with the January Blues, the focus should be completely on you! So take the time to address your needs, get outside, and nurture your physical health.
By giving your mind and body what it needs right now, you'll move through these blues quicker and be ready to take on the New Year with renewed energy and spirit!